Aleister Crowley began publishing his massive periodical the Equinox in 1909. Victor Neuburg assisted by providing general support and selections of his poetry, beginning with "The Lonely Bride" for the first issue. For the March 1912 issue Crowley was replaced as editor, at least in name, if not in fact, by Mary d'Este Sturges with Neuburg as sub-editor, presumably as an attempt to distance Crowley from the Equinox. The recent bad publicity generated by the "Looking Glass" trial had apparently caused a drop off in new A\A\ students and a backlash against the Equinox itself.
Throughout the publishing history of the Equinox, Neuburg contributed poetry to all 10 issues with the exception of Numbers 7 and 9. Judging by an advertisement in the Equinox, Number 8, published in September 1912, his lengthiest contribution, the poem "Rosa Ignota", was originally planned to be issued as a separate publication. The ad, shown below, stated that it was in preparation for publication and would have been his second book published by Crowley after The Triumph of Pan in 1910.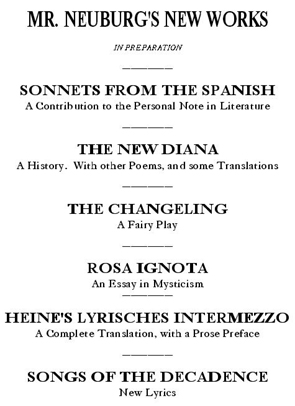 ---
Each book is bound by hand, measures 11" x 8 1/2" and features a spine fashioned from red oak. 129 pages. Numerous illustrations, decorative borders and initials are featured throughout the book. Printed on 24 pound text weight, acid-free paper specifically chosen for this edition with a cover of acid-free 80 lb. Royal Fiber cardstock. The outer cover is made from handmade, 100% cotton rag, marbled paper. The text is set in Nyala font.
As an added bonus, each book comes with a hand-bound copy of several pieces that Neuburg wrote for The Order of Woodcraft Chivalry's periodical The Pinecone. Each copy also includes a handsome bookplate and bookmark. Please act quickly to reserve your copy before this limited edition is sold out. Only 148 copies are being made available to the public.
Edition limited to 150 numbered copies. Price: USD $11.00.